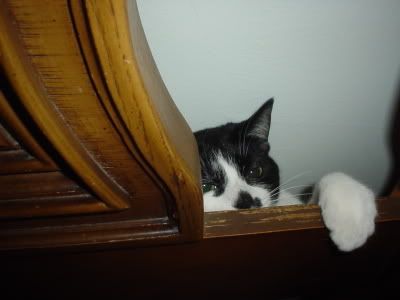 It's five am
gentle snores
keep me company
while I sip
my morning tea.

Lee, Shirley & Bruce
all snoring
at different levels.

I feel nothing
but love
as I listen
to their sleepy melody.

Zoe sits by my tea cup
her big green eyes
looking into mine
saying "meow, I can't sleep."

I pet her and she sings
along purrrrrrrrfectly.

beautiful morning song.

~~~~~~~~~~~~~~~~~~~~~~~~

Rocky was right eventually. As of this fine morning I am down almost twenty-five pounds. I wouldn't recommend the diet to anyone. I still have no appetite and am having at least 4 to 5 BM's a day. Still taking the antibiotics they use to kill this nasty little virus, have two more weeks worth. But other then that and a small worry about Monday's biopsy I'm feeling on top of the world.
Went to work for the first time Sunday night. It proved too much and I had to cancel myself last night. Going in tonight though. Every other day is good. Still weak and fatigued. My sisters & Bruce are doing all the home-making stuff and taking the best care of me. I am so blessed and humbled by them. Unconditional love is what they have for me. It fills my heart and soul.

I feel damn blessed that I live in a country where I can tell the world how many BM's I have in a day and so I got that going for me too!