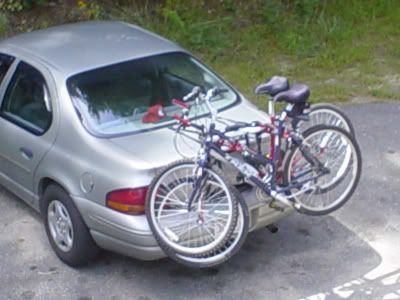 My bike is the blue one. Bruce's is borrowed from our favorite son-in-law, Ken. We drove to a really nice bike trail yesterday and we rode for at least 7 miles. Bruce said it was more like 5, it felt like 20.

The day before we went for a walk and walked over a mile. These may be baby steps to a lot of people but for me and Bruce they are huge steps after what we've been through. Bruce's new knee is working awesome. He has done so freaking fantastic and I am very proud of him.

My sister Lee said that I was very blessed to have a husband that is willing to go walking and biking with me, I said yes I am, and he is very blessed to have a wife that will go fishing and camping and to the Friday night races with him. We are a perfect match.

Today he made me breakfast and did the dishes while I blogged. I am feeling emotionally blessed to have him in my life. He is the best.

Shannon hasn't had her baby yet. She was hoping for the end of August so she could beat the school sign up date of Sept. 1. Taryn, baby girl's name, will come when she's ready. I told Bruce she must take after him, bull headed and Shannon said she takes after Ken because she's annoying her by not coming out in August. Whenever she decides to come it will be a very happy event and Bruce and I are very excited to meet this granddaughter.
After my surgery, I will be out of work for 2 months, so maybe I will get to baby sit.
So I have that going for me too!