I've been working the grave yard shift. I got home at 8:00 AM yesterday. I just walked through the door and the phone rings. It's Ken, Shannon's husband. Shannon is in the hospital and she's dilated to 8. At 10, baby is soon here.

Bruce and I hop back into the car and race to the hospital. We get to the hospital and she's still at 8. We visit and I take this cute picture of Mom. We proceed to wait, thinking it won't take long. Wrong.

Baby wasn't born until 8:03 PM last night. It took the whole day and she had some complications. At around 4:50 PM her water broke, and shortly after that she was whisked to surgery. Emergency C-section because baby was showing signs of distress.

The nurses took us to a new waiting area. So here I am over tired and worried sick and ya'll know how I get when I get over tired. I start to cry. Bruce looks at me and he says "Don't you cry, your gonna make me cry", and he then starts to cry.

Long beautiful, exciting story short, Taryn was born and her mom and dad and her are all doing great! She weighed 7 pounds 14 oz. She is 19 inches long and she is beautiful!



She's all smiles. Shannon is Bruce's only daughter from his marriage to Sharon his first wife. Shannon was also born C-section. She's a very special daughter and her dad and her share the same warped sense of humor. They have a unique talent for memorizing every line from stupid movies, Space Balls is one of their favorites and they were doing it yesterday while she was in labor, having some pretty strong contractions. Shannon was a champ. She took no pain medicine because she knew if she did it would also have an effect on her baby.
Mom, Dad and baby Taryn.

Grandpa Bruce's first time holding his first baby grand daughter.
This is Bruce's mom, great grandma holding Taryn.
Ken's Mom and Taryn
Ken's Dad, big Ken and Taryn.
Me and my sweet baby grand daughter.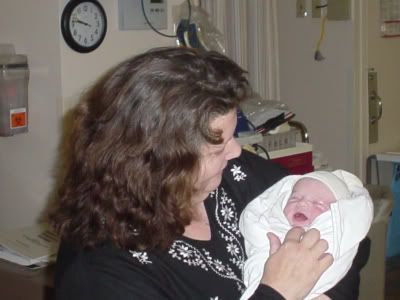 I won't be on for a few days, maybe a week. I'm going in tomorrow morning, same hospital as Shannon and having surgery. I'll see you all when I get back. My love and thanks goes out to all my friends out there. Take care and Creator Bless you abundantly.
~~~~~~~~~~~~~~~~~~~~~~~~~~~~~~~
Pictures from todays visit to the hospital.