I was so excited today. I got these pictures in e-mail.

My favorite son, my only son Travis and his beautiful wife Trina. This was taken at Travis friend, Jeff's wedding. They have been friends since grade school. Travis gets his red hair from his grandma who was a tiny bit Irish. I always teased him about going to live on the Fond Du Lac Indian Reservation. He would say "Mom, look at me they would hate me, a red headed Indian."
This is a picture of all the grooms men. Trav looks so handsome and happy!

This is Andy and Travis. They are BEST friends. Andy lived across the road and alley from us and these two were always together. They are the best!
I was supposed to work today 3-11pm…they cancelled me. Yippie now I can stay home and blog and catch up on some blogs.
Bruce and I fed some baby ducks today and it was truly a blessing. They were orphaned. No mom or pop anywhere to be seen. I was cutting up an organic apple for them and they were quacking and walking on my feet to get some apple. After the apple I gave them some corn and granola. They were starving. If they had a mom she would not of allowed them to get so close. Now I feel like I need to go feed them daily. It's good that they are staying together. The one time I didn't bring my camera, shit.
My nephew Tom got his phone put in today so now I can call him at home. You remember Tom? He was the angel at the foot of my hospital bed. We've been hanging out on our days off. Here's a picture I took of him from the last time. he got the hat when he was in Australia. He's a world class travler and all around good guy. He has a sense of humor that will make you pee your pants and he's single. He's looking for love in all the wrong places, so I felt the need to give him a plug.
He's going to kill me. ;)~
This is John. He was my daughter Boo's boyfriend. They met when she was sixteen and he was seventeen. She's now 23 and he's 24. This was taken last weekend when he visited me. I love John, and a visit from him was almost as good as a visit with my own kids. He came to see me in the hospital and he calls me almost every day to see how I am. Last weekend when he came I spent a few hours putting his hair in dread locks. Boo is coming to visit from Minnesota on the 22nd of Sept. Maybe I can get them back together. He is such a cutie. I know, I will stay out of it, but I can hope.
He is stable, he has a job, he is going to school. Plus he likes me.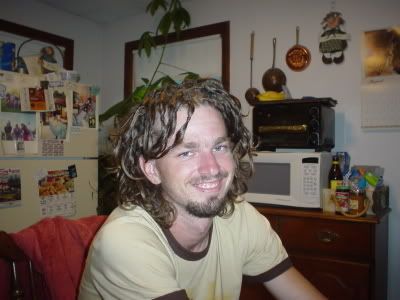 That's it for today. Have a great and peaceful labor day, except you Shannon. Go into LABOR!
This is Mr. Bruce and our favorite son-in-law Ken. Ken has a rare tongue disorder, he can't keep it in his mouth. jk
He's going to be the new daddy.